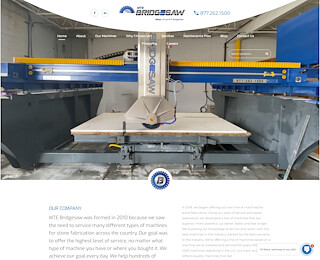 Many people use bridge saws to cut natural stones or ceramics. This saw runs on a bridge or beam to ensure professional and quality cuts. Bridge saws are used to cut granite, ceramics, marble, stones, and slabs. Bridge saws are designed for secondary cutting. It is essential to understand how these power tools work before you buy a bridge saw.
How Does A Bridge Saw Operate?
A bridge saw is made up of several components. The sawing part has the motor power, the diamond disk, and the axes, facilitating movement. Five-axis bridge saws are the most powerful and are designed to cut slabs in any position.
This power tool's name is derived from the fact that it features a frame with a bridge. There are two structures for bridge saws, a concrete wall structure, and a metallic structure. The metal structure makes it easy to move the saw when organizing the workshop. It is essential to enforce the machine's rigidity using concrete walls in case you are cutting slabs with large thicknesses.
Another essential part of the saw is the table. Wooden tables are used on the low and middle range models. Superior models use resin or rubber tables, which are highly durable. However, wooden tables need frequent changing to maintain cutting performance. To withstand the stress of cutting granite or tiles, some bridge saw tables are motorized with rotational features.
Bridge saws can have manual or automatic operations. The latter, also known as CNC, enables users to achieve a broader range of cuts.
What Can A Bridge Saw Be Used For?
Bridge saw manufacturers design their power tools to cut stones, including granite. A slab of stone is placed on the table, and then the machine cuts it. Some machines are made specifically for cutting marble. They are equipped with programmable heads that can turn in multiple positions. This means they can follow all profiles and make recess and corner cuts for any marble work, including bathroom tops, kitchen tops, and curved chimney lintel.
Bridge saws are versatile to allow cutting in every direction and angle. They can handle any cutting project, including cutting sink bowls. New generation saws can cut round, oval, or square sink bowls. These saws come with a gas attachment to enable you to connect extra tools to the diamond disk.
Where to Purchase Bridge Saws
There are several bridge saw suppliers to choose from when shopping for this power tool. Leading stores have some of the best products from bridge saw manufacturers. You can go the extra mile and look for a bridge saw machine for sale online or go to the manufacturer's store. One of the advantages of buying directly from a manufacturer is it offers you an opportunity to learn how to use the machine.
Any stone fabricator should at least know how to use this power tool. You can choose from automatic or manual models. Automated bridge saws provide clean and consistent cuts and are easier to use than manual saws. Shop for used bridge saws for sale near me if you cannot find a new model.
Please contact BridgeSaw at 877-262-1500 to learn more about our machines, our services, and us. We serve all of the United States, Canada, and Mexico.